The name "Denizli" is recorded as "Ladik" in Seljuk registers and as "Tonguzlu" in the travel book of Ibni Batuta (1357). Later, it took the name "Tengüzlü" in old Turkish language due to the abundance of the water sources of the city and this name transformed into Denizli in time.
Historically, Denizli were settled by many people thanks to its suitable climate and the fruitful fields. Within the province boundaries, there are nearly 30 antique city remains, more than 20 barrows and tumuluses. The most prominent of these are Pamukkale (Hierapolis), Laodikya, Tripolis, Colossae, Akhan Caravanserai, Beycesultan Tumulus and Hanabat Caravanserai.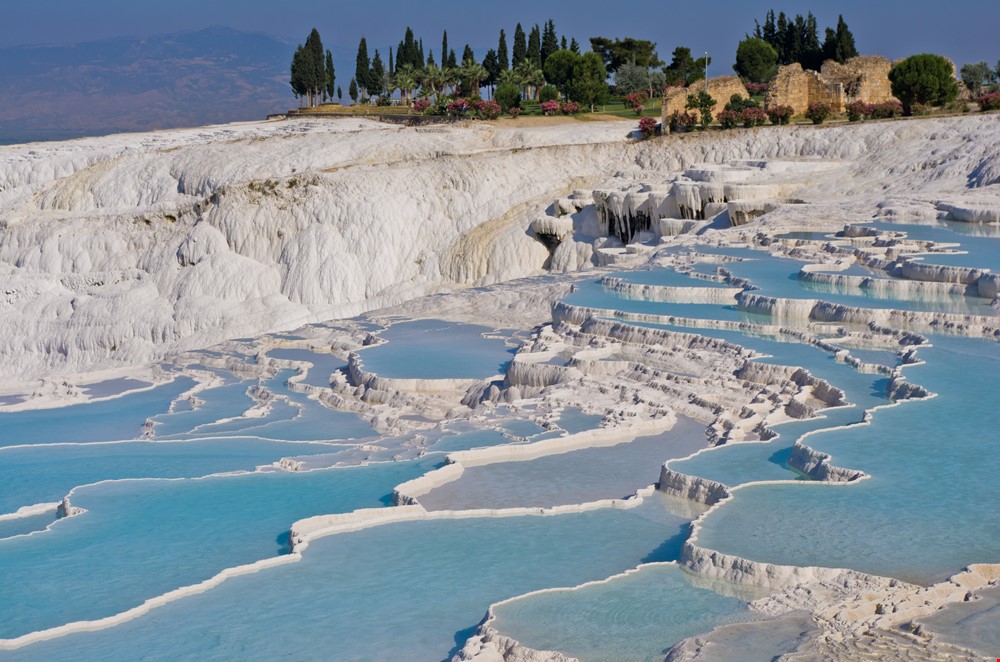 Pamukkale is 20 km away from Denizli, and it is one of the most interesting tourism center not only in Turkey, but also in world for its healing water and historical art as well as fascinating beauty. Today, Pamukkale is still famous as it was in antique ages. This antique city was founded by Eumenes II, King of Pergamon, and took the name Hierapolis in honour of Hiera, wife of Telephos, the legendary founder of Pergamon.
In Pamukkale, the open-air theatre from II. century B.C., Agora of Hierapolis, which is to the northeast of the street between Byzantine gate and Domitlanus gate, remains of Roman bath from II. century A.D., the temple, built in late Hellenic ages (II. century A.D.), for head God of Hierapolis, Apollon ramparts a church from forth century (A.D.) and monuments of graves are still appealing for the tourists. After the grave monuments in Necropol area, which was used from late Hellenic ages to early Christian period, thermal springs of Karahayit serve a different view for its red scene in Karahayit town 5 km away.
Pamukkale was annexed to world cultural heritage list by UNESCO, and it appeals many domestic and foreign tourists with its white travertine which looks like cotton pile as it is seen in the first page and with its healing water and cultural value.
Pamukkale is also a very marvelous place for the ones who like paragliding. There is a unique thermal atmosphere over Pamukkale. Almost everyday you can see somebody flying like the birds.